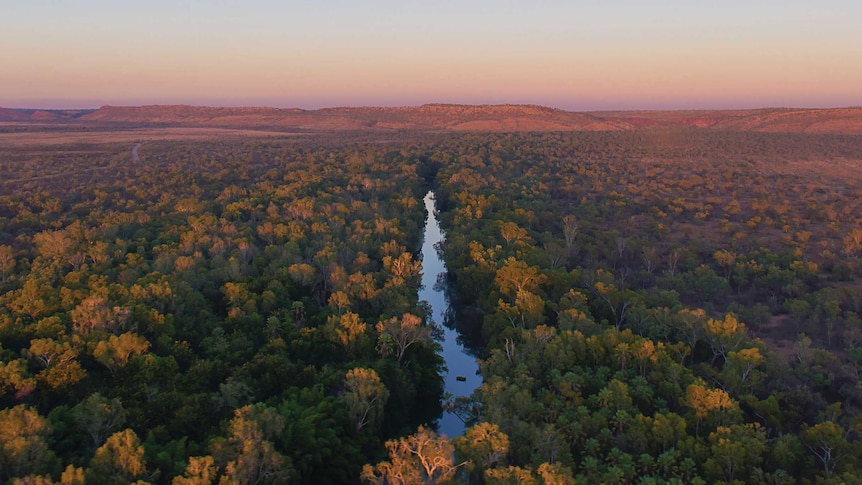 Lawn Hill Gorge in Boodjamulla National Park made headlines when used in a Tourism Australia ad campaign.
Key points:
Boodjamulla National Park (Lawn Hill) draws thousands of visitors out to north-west Queensland each year
Rangers say the park will not open until at least mid-2024
There are concerns that Indigenous cultural heritage sites have been damaged
An iconic outback national park, made famous by a Super Bowl advertisement, has closed due to severe damage from floods earlier this year.
Boodjamulla National Park (Lawn Hill) in the Gulf of Carpentaria captivated international audiences during the 2018 US Super Bowl with the $36 million Tourism Australia campaign Dundee: The Son of a Legend Returns.
But in March this year, the park's emerald waters and lush bushland were decimated by floodwater after more than 500 millimetres of rain fell in less than 36 hours.
Gregory River at Riversleigh, near Boodjamulla, reached 18 metres high, shattering the 1971 flood record of 10.8m.
As rangers work with structural and flood engineers to repair the important site and traveller hotspot there are concerns that Indigenous cultural heritage sites have been damaged.
Meanwhile, communities across north-west Queensland are feeling the flow-on effects of the park's closure amid an already stagnant tourism season.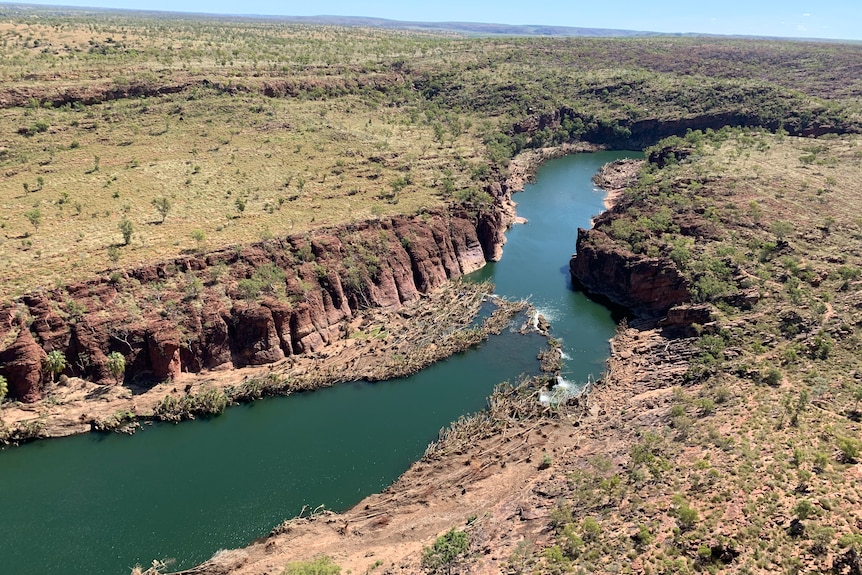 An aerial view shows the collapse of the river bank and sparse trees due to flood damage at the national park. Supplied: Boodjamulla National Park 
Damage to cultural sites
Images show shredded trees and vegetation blanketing the park.
"The vegetation surrounding the river has been severely impacted," principal ranger Dave Woods said.
"We've lost a lot of the palms and the paperbarks. We've lost a lot of topsoil."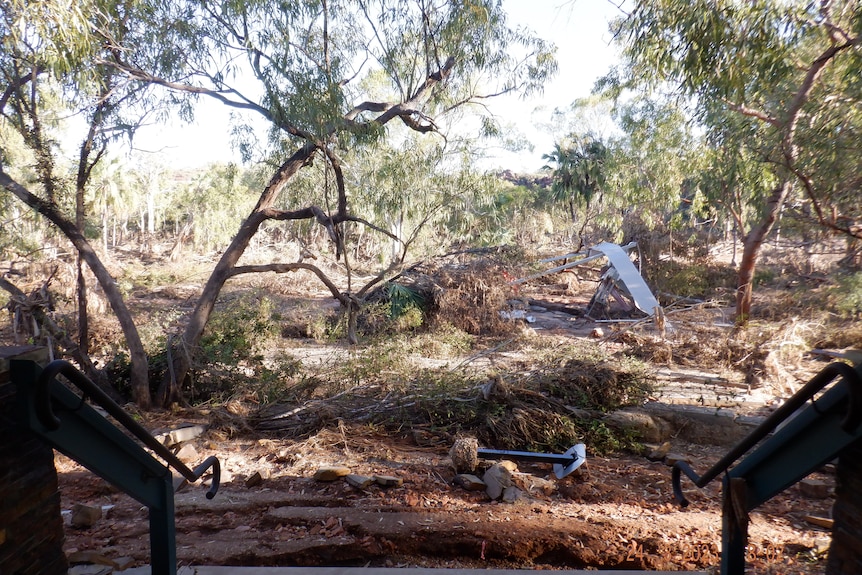 A rockslide has impacted the pristine Indarri Falls, creating instability along one of the park's most popular walking tracks overlooking the picturesque gorge.
The park is not just a popular spot for campers. It includes the Riversleigh World Heritage Site, described by UNESCO as one of the world's greatest fossil sites with specimens dating back 30 million years.
Rangers are concerned about the damage of cultural heritage sites of the Waanyi people representing 30,000 years of Aboriginal history on the land.
Entire region suffers
The knock-on effects of the park's closure are already being felt across the wider north-west Queensland region.
Located a four-hour drive away, Mount Isa is a popular spot for caravanners, campers, and large tour groups on their way to Boodjamulla to stop for a few nights.
"Tour operators are telling me they don't want to come to Mount Isa any longer and that's because of the park closure," Outback At Isa manager Martin Turner said.
At the height of outback Queensland's tourism season, Mr Turner is worried about the closure's impact on other tourist providers' bottom lines.
"We're so isolated. It's a long trip to get here on a bus if there's nothing to do other than the mine tour or the fossil tour [in Mount Isa]," he said.
Mr Woods said Boodjamulla would be closed until at least mid-2024, and even then it was unlikely to re-open until well after the wet season to ensure visitors' safety.
"We're closely discussing the closure with the Waanyi people and they're as keen to get the park open as soon as we possibly can."