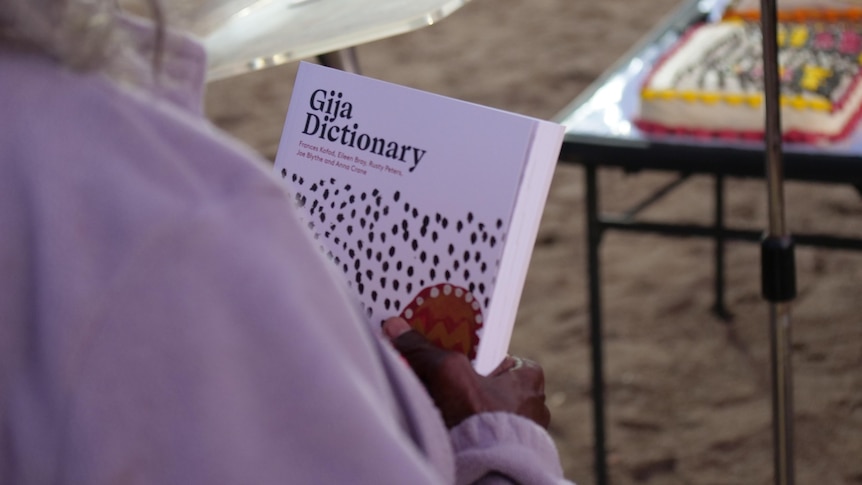 The dictionary was created thanks to decades of painstaking work.()
Gija elder Shirley Purdie likes the naughty words in her ancient language.
She admits they can be used to keep misbehaving children in line.
"Funny sort of words … a bit sweary … that say, 'you're no good'."
The senior Indigenous artist and respected elder in the community of Warmun is one of a dwindling generation who speaks Gija fluently.
The words spoken to her as a child on Mabel Downs Station are now part of a Gija language dictionary.
"I'm proud of my Gija language. I got taught from my parents and the other people … aunties and grandma," she says.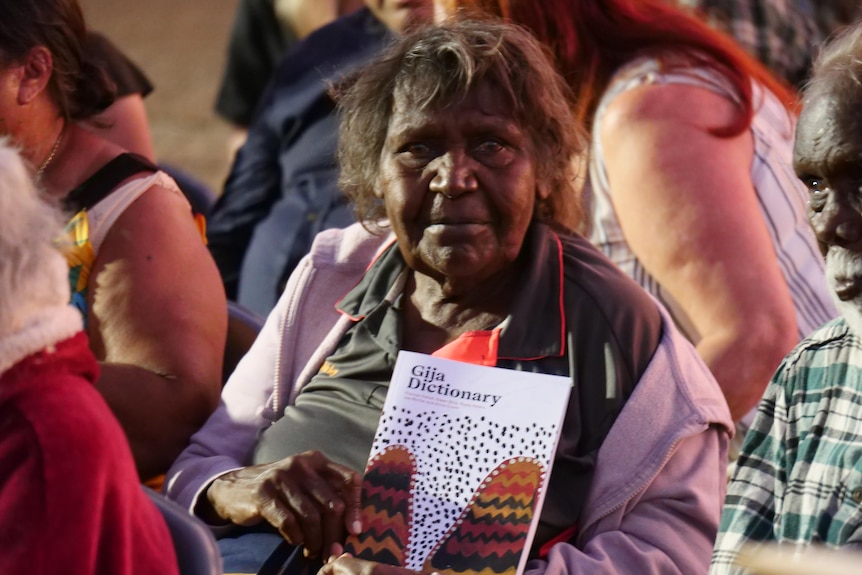 Shirley Purdie grew up speaking Gija on Mabel Downs Station.(ABC Kimberley: Ted O'Connor)
"When I was walking with old people on the station, they never talked English; they used to talk language when they would take us out bush."
A cultural event in Warmun celebrating the dictionary's completion features traditional songs and dances.
Patrick Mung Mung helps lead the performance by singing in Gija language, weaving themes from ancient and contemporary events.
"All about the Dreamtime snake … Dreamtime kangaroo … Cyclone Tracy … Argyle diamond mine," he says.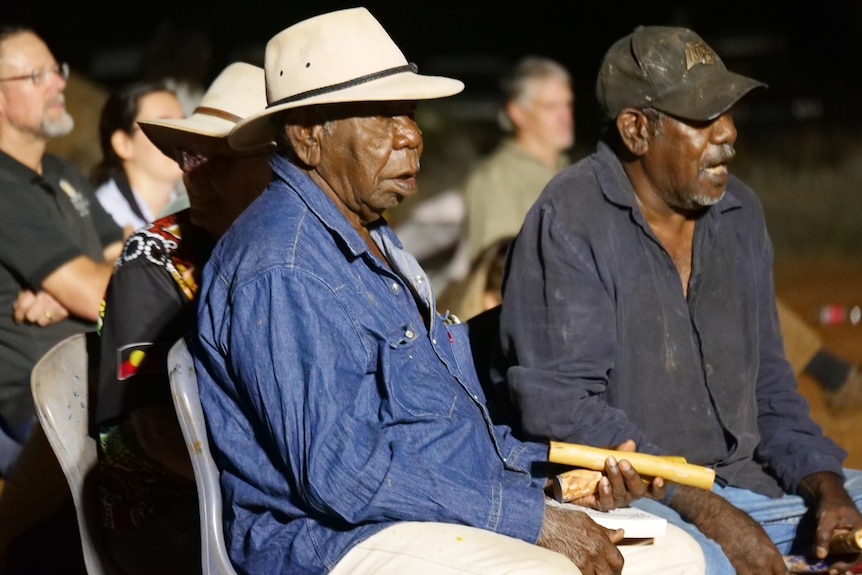 Patrick Mung Mung leads a traditional song at the launch of the dictionary.(ABC Kimberley: Ted O'Connor)
The respected artist and elder says the completion of the book, after decades of painstaking work, makes him reflect on the loss of the generation above him.
"All my people are all gone, I'm the only one left, but I will learn that book … from my ancestors," he says.
A language born of the landscape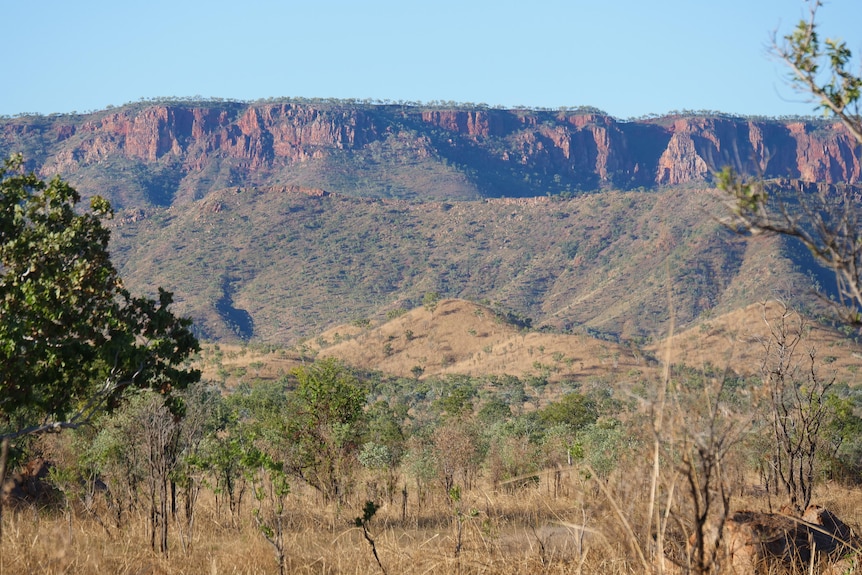 Gija country is known for its spectacular mesas and ranges.(ABC Kimberley: Ted O'Connor)
he Gija language covers an area of the East Kimberley famed for its rugged landscape with spectacular orange mesas and boulder-pocked hills which shine in the evening light.
Gija country roughly stretches from north of Warmun to Halls Creek and includes the renowned beehive-shaped sandstone domes at the UNESCO-listed Purnululu National Park.
Artwork produced by senior Gija people has earned a global reputation for its distinctive rendering of the vast outback landscape with vibrant colours and compositions.
Gija native title group Malarngowem Aboriginal Corporation helped fund the dictionary, and director Russell Gregory says the language reflects that close connection to the landscape.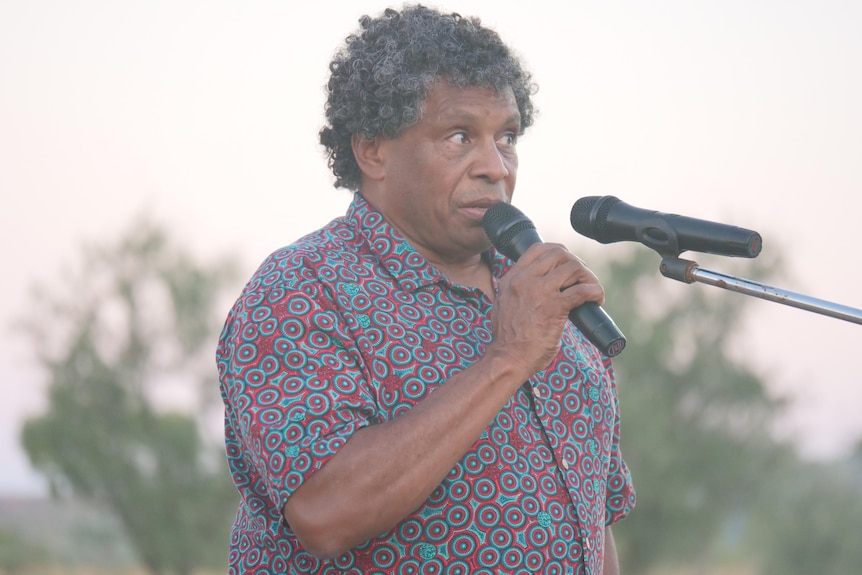 Russell Gregory says the Gija language is grounded in people's connection to the landscape.(ABC Kimberley: Ted O'Connor)
"Even with colonisation and the cattle industry coming up here to the East Kimberley, people still had those physical elements that they knew and talked about and respected, and they knew they had to pass that onto other members of their family," he says.
"It's important for younger people to understand that there's something in their culture that describes a lot of the physical and living things in their environment."
Governed by genders
The dictionary has hundreds of pages devoted to elements such as grammar, translations and the culture's complex skin system.
Linguist Frances Kofod has studied the language since the 1980s and recorded many fluent speakers from various dialects.
She says Gija is bound by strict rules, especially regarding genders.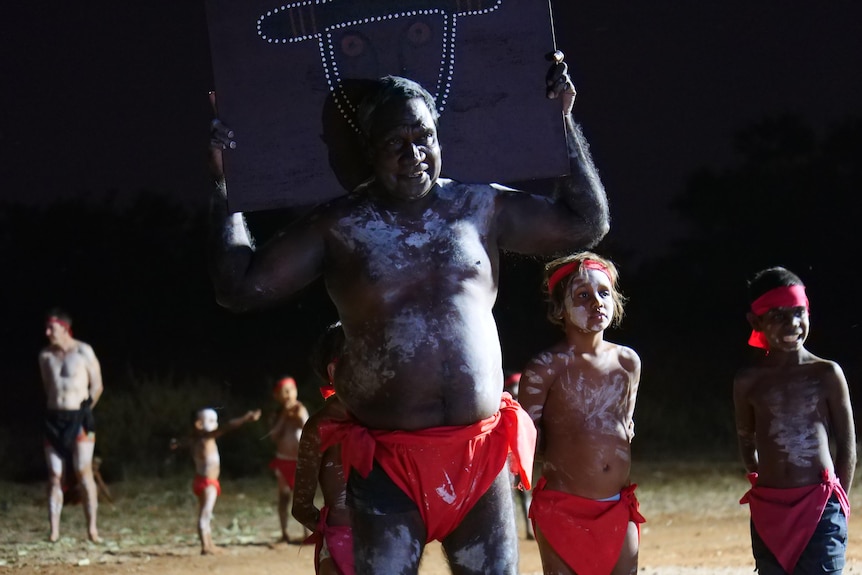 Gija people say the dictionary reflects their rich culture.(ABC Kimberley: Ted O'Connor)
"Gija language is very special. Things have to be masculine, feminine or plural non-singular and everything agrees," she says.
"It's partly related to the Dreamtime because things like echidnas were female, so the word for echidna is grammatically feminine; the wedge-tailed eagle was a man, so the word was masculine."
Australian languages linguist Associate Professor Joe Blythe helped create the dictionary and says the document is comprehensive and built on a large body of data.
He says the Gija language has an unusually diverse range of nasal sounds compared to European languages such as English.
"I love the sound of it, I love the intonation, the grammar is fantastic, the morphology of the words is very complicated … but fascinating."
Dictionary key to Gija's survival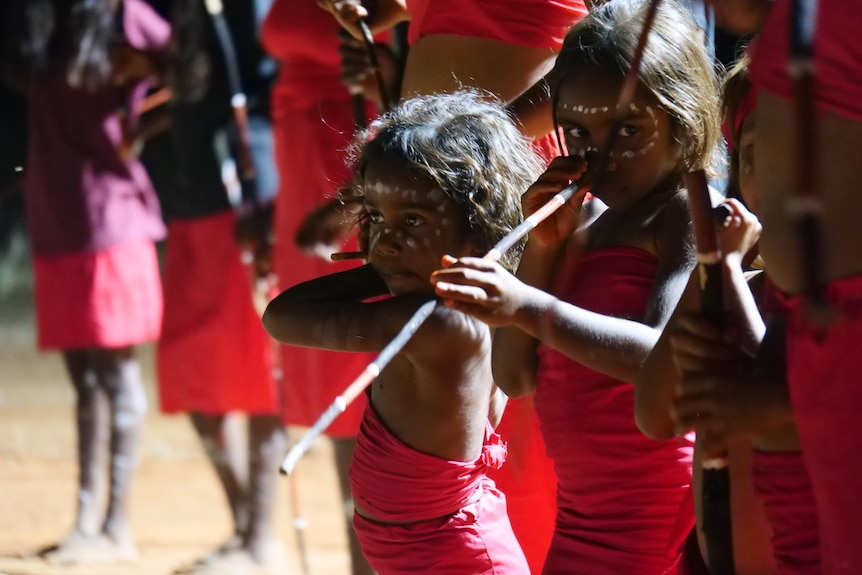 It's hoped the Gija dictionary will inspire young people to connect with their culture.(ABC Kimberley: Ted O'Connor)
The inevitable loss of the older generation of fluent speakers continues to threaten Indigenous languages across the Kimberley.
Many young Indigenous people now grow up speaking Kriol, but while a small number of pre-colonisation languages thrive in very remote areas, others are at risk of fading away.
The Gija dictionary will be used in schools throughout the region to keep the language alive.
"I think the future is bright actually for Gija," Dr Blythe says.
"It's a very strong culture and I think language is a huge part of it. It can be put to good use."