3 Oct 2023
Key points:
Rangers removed about 25 kilograms of concrete, stones and soil from the native well near Windorah
Police believe the incident took place last month and are appealing for witnesses and information
A ranger says the apparently deliberate act is "just another insult" to her people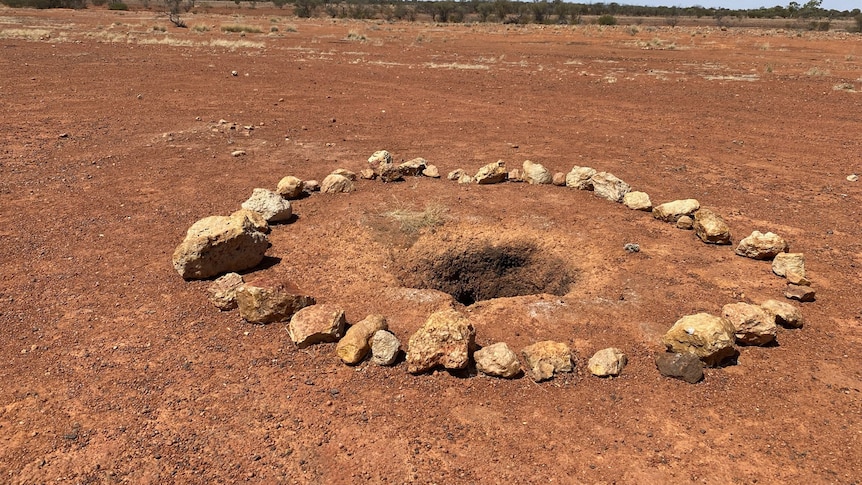 Stone markers were used to signify the location of the well, which would contain clean drinking water
A sacred well believed to be thousands of years old has been filled with concrete in outback Queensland, sparking a police investigation.
The native well is one of several in the area, which is approximately 90 kilometres west of Windorah, in the state's west.
Rangers from the Mithaka Aboriginal Corporation found the damage during a recent routine check and removed about 25 kilograms of material from the well.
Ranger coordinator Trudy Gorringe said it appeared as though "about a bucketful" of concrete mix was made at the location and poured into the well.
"It didn't fill it right up," she said.
Native wells, usually about a metre deep, are considered cultural heritage sites that the Mithaka peoples once used as reliable sources of clean water when travelling through the country.
The wells are no longer in use, but attract visitors eager to learn about the area's Aboriginal history.
Frogs and triops – tadpole shrimps – have taken up residence in the wells.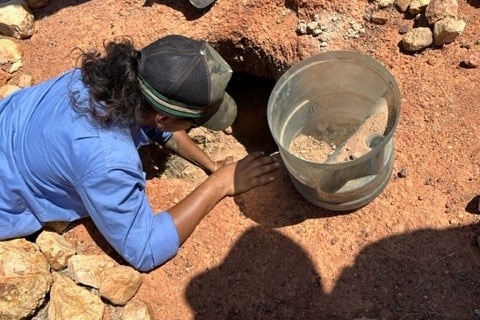 Rangers say they removed about 25 kilograms of concrete, stones and soil from the well. Supplied: Mithaka Aboriginal Corporation
'Really disappointing'
The Longreach Criminal Investigation Branch (CIB) and Windorah police are investigating the matter as a possible case of wilful damage, which carries a maximum penalty of five years' imprisonment.
Police said the damage appeared to be deliberate and took place sometime between September 1 and 22.
"Samples of the material have been taken, the site has been photographed by a forensics officer, the Longreach CIB have conducted an inquiry with the rangers," Acting Inspector Chris Smith said.
He said it was "really disappointing" to see.
"To do the work that was done to the well … it's embarrassing for that matter to happen in our area," Acting Inspector Smith said.
"We're seeking any public assistance from anyone travelling on the roads, if they have any dash cam footage or anything like that."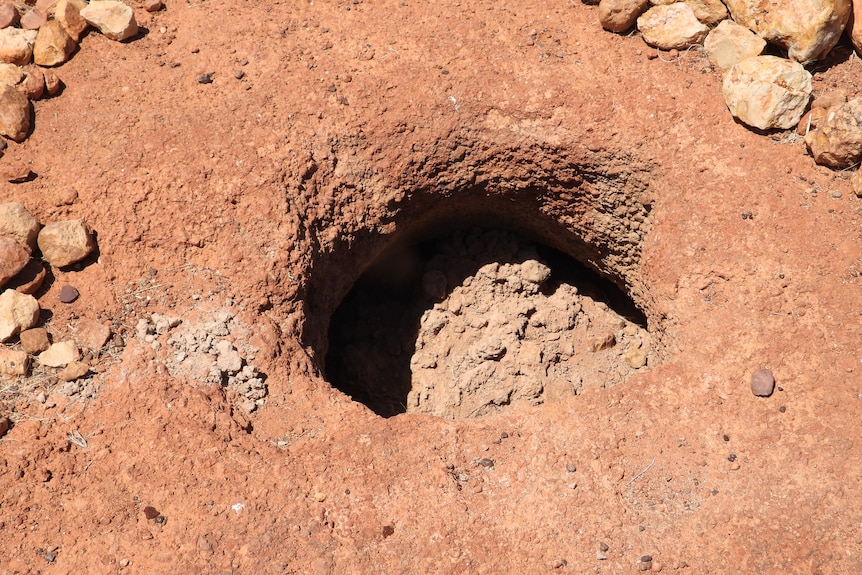 Police believe the possible act of wilful damage occurred last month. Supplied: Mithaka Aboriginal Corporation
'Given freely to share'
Ms Gorringe said Mithaka cultural advisors were disgusted with the damage.
"They feel the spirit of what it means, and what it is to share it, has gone," she said.
"It's very frustrating, because these particular points of interest or cultural heritage sites have been given freely to share with the general public."
Ms Gorringe said the wells had previously been damaged with human faeces and rubbish.
"It's also very disrespectful," she said.
"For our old people, it's just another insult."
Mithaka Aboriginal Corporation general manager Josh Gorringe estimated the native wells to be 3,000 to 5,000 years old.
"For as long as I can remember those native wells have been there," he said.
"They were generally covered up with rocks, logs, and sticks … so the big animals like kangaroos and emus couldn't drink out of them."
Mr Gorringe said the corporation was considering fencing off the site to prevent further incidents.
"If it was a church or something like that and someone graffitied it, it would make national news and the people would be up in arms about it," he said.
"Yet Indigenous sites get destroyed every day of the week and not much was done about it.
"I think there's a huge time to really get on top of this and change some of the narratives, because our history is just important as non-Indigenous history."