Click here for the original article on the Australian website
For two years, sometimes aided by their daughters and grandchildren, by day and often night, the women sat weaving – to create something remarkable.
From The Weekend Australian Magazine
October 21, 2023
By FIONA HARARI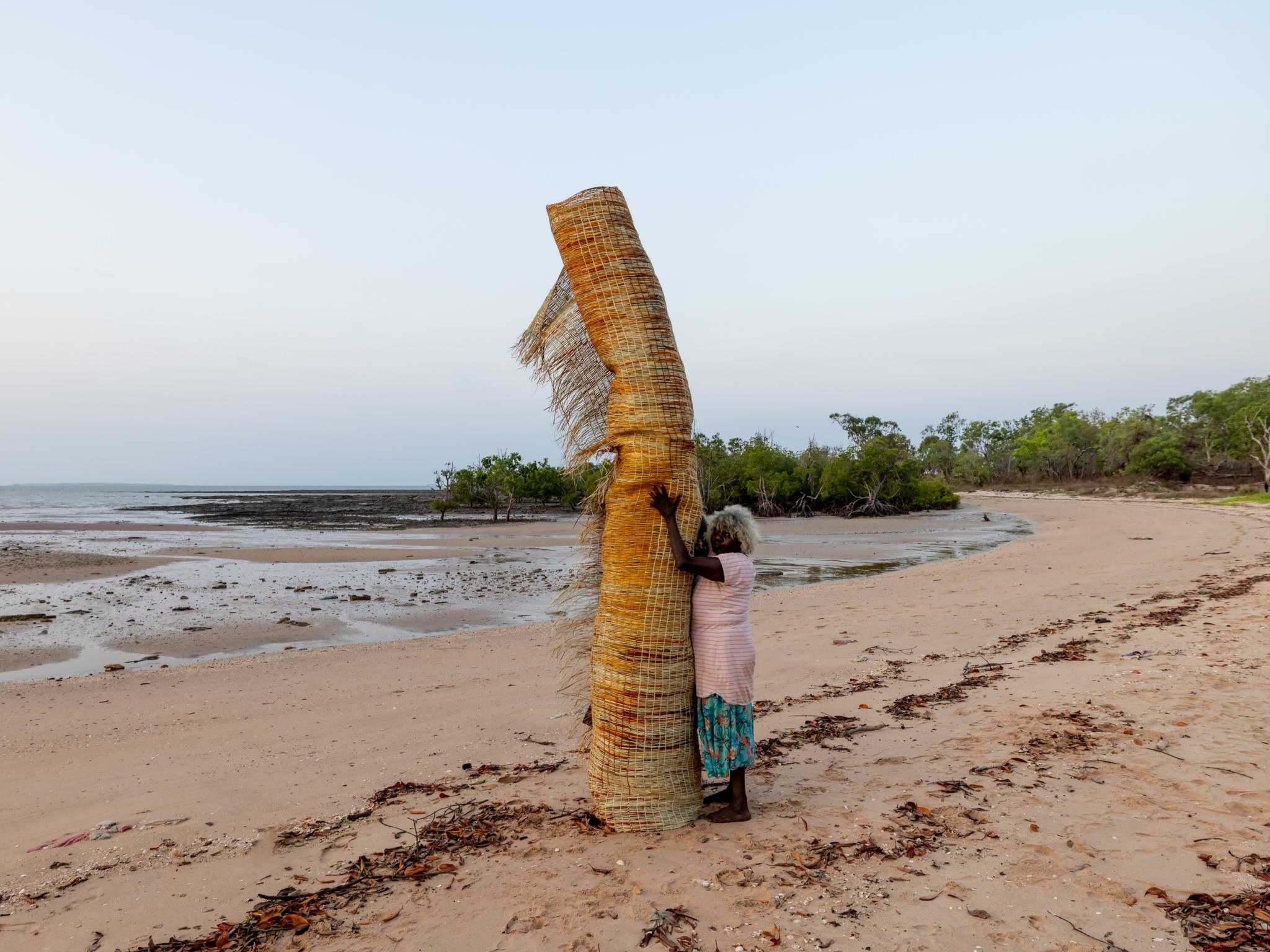 Lorna Jin-gubarragunyja with her section of the 100m fence project built for the National Gallery of Victoria. Picture: Renae Saxby
In the final corner of an artwork that has taken nights and years to assiduously create, Lorna Jin-gubarrangunyja hunches on the ground, one leg tucked under, the other splayed to the side beside a pair of discarded thongs, and ­diligently plucks at a handful of strings.
"I like this weaving because when I was a little girl I was weaving… and then I taught my daughters," she says quietly, eyes fixed downwards, as she rhythmically tucks and pulls at the collection of coloured pandanus strands clasped in her left hand.
The matriarch of four generations, she works steadily and mostly in silence, the object of her attention a tiny point on a massive woven opus created with aeons-old skills. While Jin-gubarrangunyja's 71 years have spanned the stolen generations and the acquisition of land rights, it's her fine hands, gnarled but strong, that tell of her most recent history.
A daughter of Arnhem Land, she lives near Maningrida, 500km east of Darwin. A speck by world standards, it is also the largest Aboriginal community in the Northern Territory. And it's from a nondescript space in this spread-out, dusty town at the mouth of the Liverpool River, where 12 languages are spoken among a population of just 2500, that she and a dozen other women have been crafting their way into the pages of ­Australian artistic achievements.
For the past two years, sometimes aided by their daughters and grandchildren, by day and often night, at home and sometimes in a back room at the local art centre and away from the demands of family, these women have been weaving.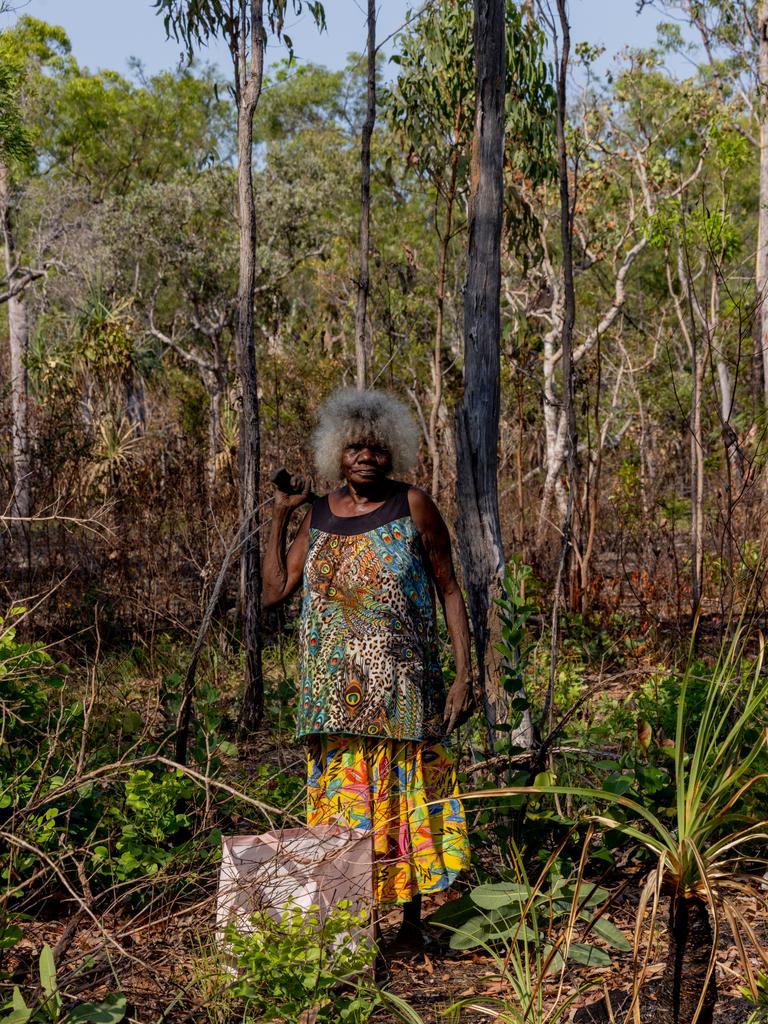 Lorna Jin-gubarragunyja. Photo: Renae Saxby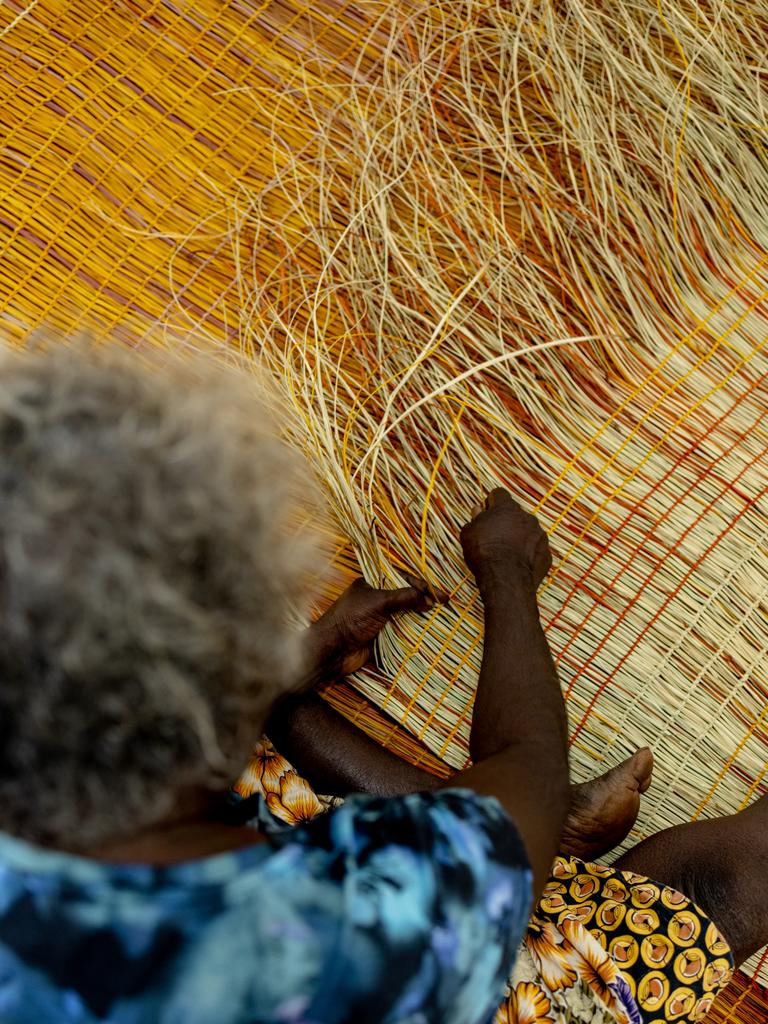 Doreen Jinggarrabarra at work. Photo: Renae Saxby
Using little more than their hands, they have painstakingly, and often painfully, created a 100m-long fish fence, after harvesting and processing the cornucopia of raw materials that its construction entailed. Based on the nets traditionally placed across rivers and creeks to corral fish, theirs is the largest woven sculpture ever produced in Australia, and one of the most ambitious anywhere.
Next month, their work will debut at the National Gallery of ­Victoria's Triennial exhibition. Richly hued and carefully constructed, it is set to be admired for its artistic merit, not to mention the marathon that resulted in its creation. But its metres and rows of hand-coloured ­fibres, dyed with local plants, are also a timeline of the women who ­created it and the long seasons over which they toiled.
"I can see the bush trips we went on," says Brooke Ainscow asshe ­admires a patch of pink on one weaver's 10m contribution, a colour ­derived from a wet-season native plant seasonally sourced before being boiled in salt water. "She's woven two years of time."
As manager of Maningrida's art centre, Ainscow became the project's unofficial overseer after a phone call from the NGV in Melbourne in late 2021. Myles Russell-Cook, the gallery's senior curator of Australian and First Nations Art, had admired a small stretch of netting woven by a Maningrida artist – and within the call, convinced a group of local weavers, many of them already widely recognised, that creating a fish fence the length of an Olympic sprint was indeed achievable.
One of the oldest human crafts, weaving is deeply rooted within many cultures. "The actual practice of weaving was so intertwined, pre-colonisation, to everyone's everyday lives. Having the skill to weave would be a means of survival," says Ainscow.
For Arnhem Land's Burarra people, those skills have seen the creation of countless utilitarian products, from dilly bags to the fish fences that have enabled them to live sustainably for generations.
"It's part of us," says Doreen Jingarrabarra, a highly regarded weaver who was among the first 10 to sign on to the project. "While I weave I think about my mother, I think about my grandmother, how she's done weaving. And she had to pass it along to me, and I am showing my girls."
Those generational ties proved beneficial as the initial group expanded to 13, with lots of additional input from relatives, and the audacious ­reality of hand-producing the 100m-long work became apparent. "There was a lot of contemplating," Ainscow laughs of the initial ­response to the call from Melbourne. But once she and the other women divided the task into 10m sections, "everyone was like, 'Yep, we can do this'," she says. "It wasn't until they had woven two ­metres each that how big this was really set in."
There was also the small, unstated detail that many of the group, although accomplished at their craft, had never actually made a fence before.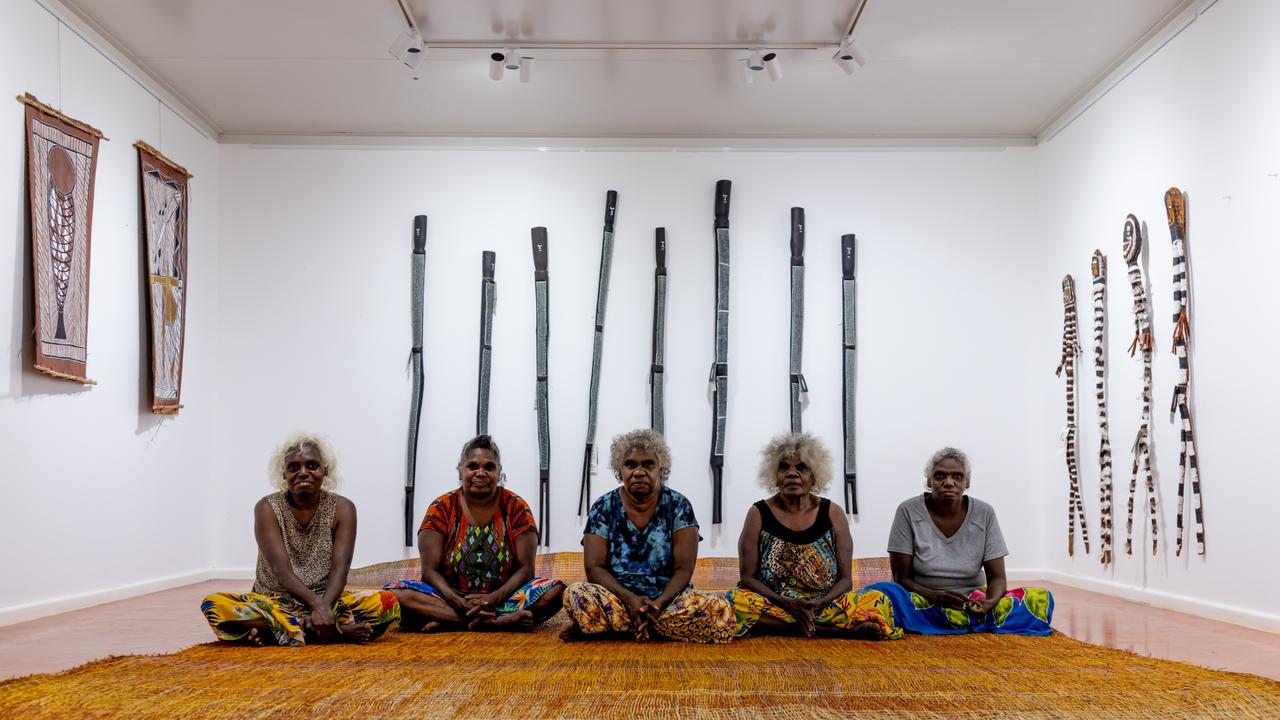 Michelle Baker, Freda Ali, Doreen Jinggarrabarra, Lorna Jin-gubarragunyja and Cecille Baker from Maningrida Art Centre in the NT. Picture: Renae Saxby
Creating a 100m-long fish net is no small task. Even before a single strand has been threaded, the biggest and possibly most demanding part is the preparation that precedes it. "Collecting the materials, collecting the dyes is so incredibly labour intensive," says Ainscow. "Before ­anything is even woven, there's three or four days of work that goes into collecting everything."
While all the women were good with technique, none had any idea about the sheer quantity of materials needed. In the end, they undertook dozens of bush trips to collect the clutch of bush plants that then had to be boiled down to make dyes. Along the way, they stripped the leaves of close to 6000 pandanus plants, a taxing process compounded by the spiky-edged leaves that often shredded their fingers. There were also kurrajongs needed to create the ropes at either end of the fence. And only then, after the ropes had been rolled on their knees, could the weaving begin.
Using the same technique as making a dilly bag, but on a massive scale, it was a taxing and slow procedure that lasted only as long as their supplies, which at times had to be bolstered twice a week. Then the whole process would have to restart.
"We had a lot of pain," says Doreen Jingarrabarra. "Pain in our back, arms, legs, when we sit. We got cramps sometimes." As each weaver's section grew, and could no longer be contained to their homes, many moved into the back room at the art centre, where they would work for more hours, sometimes sleeping in situ beside their work.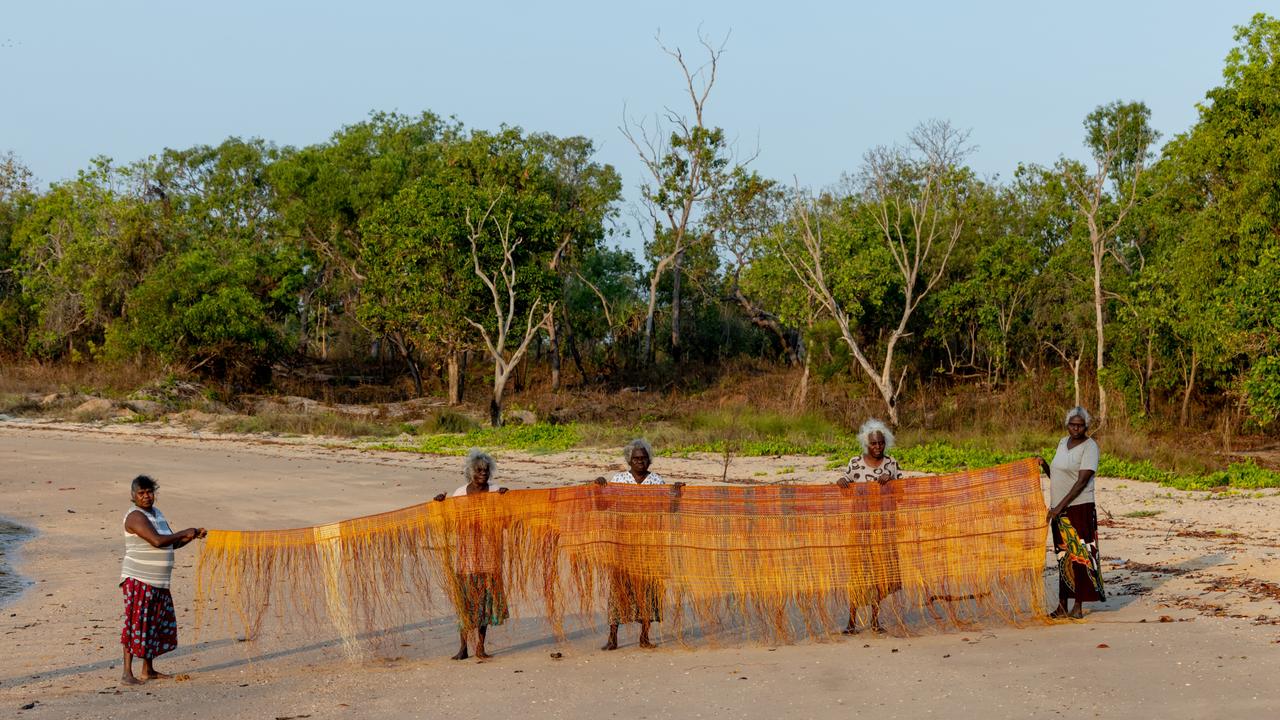 "This is important for us, fence net and fish trap. It's in our songline." Picture: Renae Saxby
It was an arduous process. "The last two metres was a bit of a punishment for them," says Ainscow, pointing to the bold patches of colour that mark the start of one weaver's work, and the paucity of hues, given the amount of work their creation entails, towards the end.
Maureen Ali's herculean task was made much more difficult when her husband died suddenly in his forties midway through the project. Sorry business took her away for several months. It also meant that when she returned to work, she was unable to leave her home until after the funeral, so for a long time her sisters brought pandanus leaves to her home so that she could continue to work there.
"This is important for us, fence net and fish trap. It's in our songline," says Doreen Jingarrabarra as she watches Lorna Jin-gubarrangunyja, bent over and still concentrating, sew a final time, and one more section of this massive work is completed. Jingarrabarra finished her portion back in April. While she's deeply proud of her achievement, she still finds parting from a creation that consumed so much of her life to be a sweet sorrow.
"It made me sad when she left," she says of watching her lovingly made portion being loaded onto a barge for Darwin, before the long ­journey south. "I kept thinking of my mat travelling to the Melbourne museum; she's going a long way from Maningrida." b
Triennial 2023 opens at the National Gallery of Victoria on December 3. See ngv.vic.gov.au for details