Park rangers have built walkways to protect rock art at Carnarvon Gorge. (Facebook: Queensland National Parks)
Key points:
QPWS has fined 18 people for touching ancient Indigenous rock art this year
A traditional owners' management group says the artworks mark important ceremonial sites
Carnarvon Gorge is a popular tourist attraction in central Queensland
The Queensland Parks and Wildlife Service (QPWS) is cracking down on social media influencers who it says are intent on creating "self-indulgent, unlawful selfies", which put ancient Indigenous artworks at risk.
Senior ranger Luke Male said, despite installing boardwalks to protect the ancient sites, he was continually seeing photos pop up on social media in which people had left the boardwalk and in some instances were touching the rock art.
"Some visitors to Carnarvon National Park think the rules don't apply to them and they're entering restricted access areas to pose for photos," Mr Male said.
"Touching the rock face can cause it to wear and we also know things like suncream, sweat, and hand sanitiser, which people have been using since the pandemic, can also cause damage to the rock art."
He said 18 people had been fined after photos of them camping or committing fire offences in restricted areas were spotted by QPWS online.
Six people have also been hit with $431 fines for posting photos of themselves touching the rocks.
'Like walking on someone's coffin'
The region features ochre stencil art believed to be thousands of years old embedded within fragile sandstone.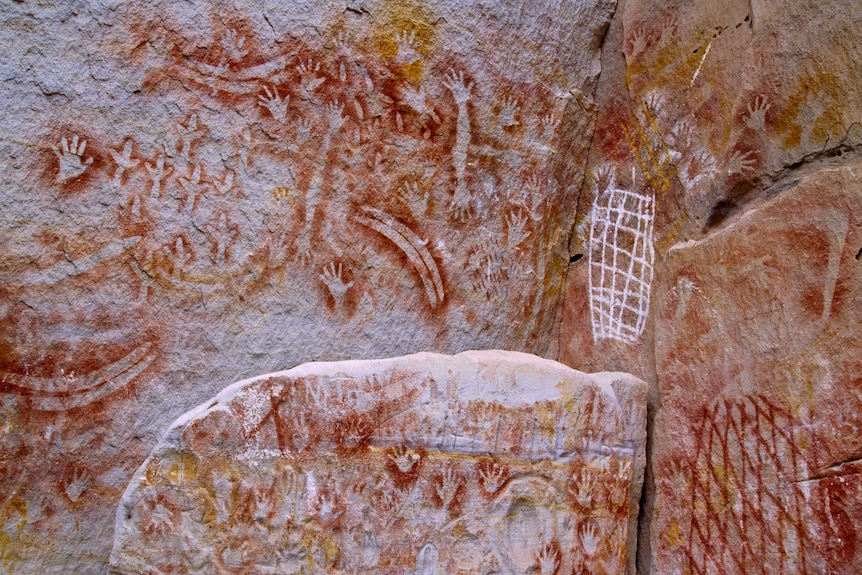 The rock art at Carnarvon Gorge is thousands of years old.(Supplied: Queensland Parks and Wildlife Service)
Bidjara representative Leah Wyman from the Carnarvon National Park Traditional Owners Management Group Committee said the art provided valuable information about the lives and culture of Indigenous ancestors.
"They are also important spiritual and ceremonial sites to us, and it is imperative that everyone stays on the walkways to ensure that Carnarvon National Park can be visited by future generations," Ms Wyman said.
Kristine Sloman is also a Bidjara representative for the group and said the park was a giant cemetery.
She said the rock art sites were where her family members had been laid to rest.
"Getting off the boardwalks and walking around is of the utmost disrespect, and is comparable to attending someone's funeral and walking on their coffin," Ms Sloman said.
She said she wanted people to experience the art, but also to respect it.
"Many people around the world have chosen to close their sacred sites due to destructive impacts, and it would be a great shame to resort to this type of action," she said.
Mr Male said rangers routinely checked social media for selfies that had been taken unlawfully and would issue fines to anyone who entered restricted access areas around the rock art.