Corroborees where Marvel Stadium and the MCG now stand, and Indigenous ceremonial rites on the grounds of South Melbourne Town Hall – these are the alternative histories of some of Melbourne's most recognisable sites, now mapped out online.
The Aboriginal heritage behind the sites of these post-colonial buildings have been revealed in a new interactive digital map developed by the region's traditional owners, the Wurundjeri Woi-Wurrung and Boon Wurrung/Bunurong, with the City of Melbourne.
Mapping Aboriginal Melbourne
See the original Age Story to view scaleable map.
The interactive project is the first of its kind for the city. It details landmarks such as the Yarra's former waterfalls, where Queens Bridge now crosses the river, the scarred trees near the MCG, and lesser known sites such as the hill where the South Melbourne Town Hall now stands.
A geo-pin on the South Melbourne location reveals that before Europeans arrived, what would later come to be known as Emerald Hill was a ceremonial and male initiation site overlooking a rich delta of wetlands and sand ridges, and the nearby Birrarung (Yarra River) and Naarm-Port Phillip Bay.
The geo-pin then displays an 1840 painting by W.F.E Liardet, called A Corroboree on Emerald Hill in 1840, depicting First Nations people practising those ceremonial rites.
Within five years of that painting's creation, however, the area had been rapidly colonised. In 1845, local newspaper The Argus reported: "It is but a few years since the aborigines encamped there nightly, and now there is a flourishing township. We have concerts instead of corrobories [sic] – civilisation supplanting primitiveness."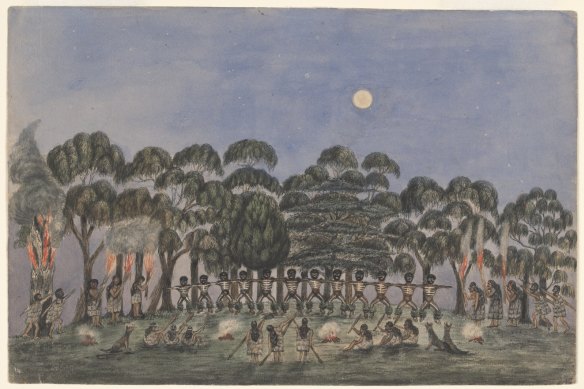 'A Corroboree on Emerald Hill in 1840' by W. F. E. Liardet.CREDIT:STATE LIBRARY VICTORIA
By 1839, Melbourne Governor Charles Joseph La Trobe had issued an explicit instruction to the region's Chief Protector, George Augustus Robinson, that Aboriginal people were not to be permitted to enter the Melbourne township, and were to instead establish a camp at a location now occupied by the Botanic Gardens and Government House.
The council is working with traditional owners to add information to the interactive map, and challenge how the public looks at modern-day Melbourne and considers its history.
There's been strong interest in the tool from schools, libraries, childcare centres and other Aboriginal organisations, said the city council's director of Aboriginal Melbourne, Jason Eades.
"We can shine a light on Melbourne from the perspective of traditional owners, demonstrating that their connection to Country is not based in history, but very much in the present," Eades said
Lord Mayor Sally Capp said the council wanted people to appreciate Melbourne's black heritage and culture.
"As people walk the streets, we want them to have the opportunity to appreciate that this is a place with 60,000 years of human history," Capp said.
"From South Yarra to Kensington, Melbourne is brimming with significant spaces for traditional owners. While we know there is a lot of interest in these locations, most people don't know where to look or how to find them. This tool will help people unearth these stories and share them with others."