Published: September 13, 2023
Click here to read the original article on the Conversation including videos.
Manchester Museum has formally handed over 174 cultural heritage items to a delegation of women from the Anindilyakwa community of Groote Eylandt, an island in the Northern Territory.
Last week's event was the result of three years of collaboration between the museum, the Anindilyakwa Land Council and the Australian Institute of Aboriginal and Torres Strait Islander Studies (AIATSIS).
The returned items included arm bands, turtle shell maps, baskets, a model canoe, spears, spear throwers and 70 Dadikwakwa-kwa (shell dolls).
The director of the Manchester Museum, Esme Ward, emphasised repatriation is:
a gain, not a loss. Once you understand that it is about building relationships, it changes everything.
Since her appointment in 2018, Ward has championed these approaches, seeing museums not just as places to care for objects and collections, but as "empathy machines" that generate ideas and foster relationships.
This focus on relationships is relatively new in museums, and remains far from universal. But if museums are to remain relevant, trusted institutions they need to move beyond traditional models of authority.
The museums of the future must become socially engaged platforms where diverse voices and perspectives come together in productive new ways.
Slow waves of change
Through the 19th and early 20th centuries, museums positioned themselves as authoritative spaces for the enlightenment of the people. Indigenous artefacts, ancestors and cultural heritage were taken, traded and studied, resulting in thousands of collections held by institutions around the world.
Aboriginal and Torres Strait Islander people were objects of curiosity and study, with no say in how their history and cultural knowledge were managed or represented.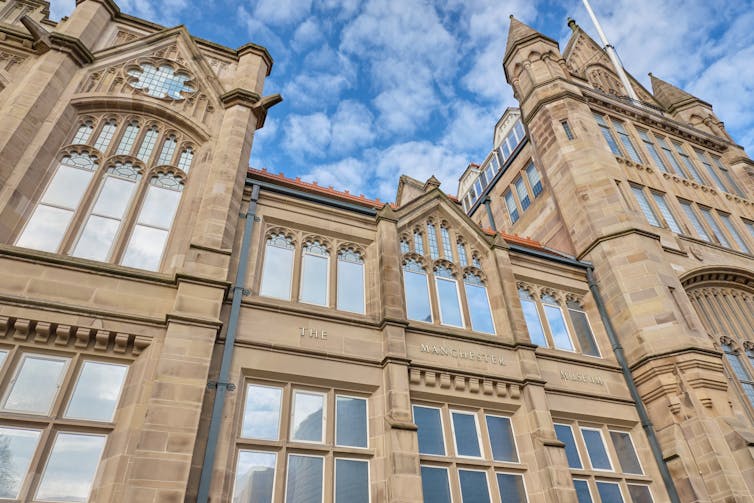 Museums around the world – like the Manchester Museum – treated Aboriginal and Torres Strait Islander people as objects of curiosity and study. Shutterstock
Change started slowly in the 1970s. At international meetings and conferences, professionals from colonial countries emphasised the need for more engagement with communities. There were growing calls for the repatriation of ancestral remains.
The first repatriation by an Australian museum came in 1976, when the remains of celebrated palawa leader Trukanini were returned to Tasmanian Aboriginal Community members after years of lobbying.
In the years since there have been many repatriations, though there are still many more to go.
New relationships
The past decade has seen an interesting shift in museum practice toward a focus on relationships.
Community involvement has gradually changed the ways First Nations cultures and histories are represented in exhibitions. There are more First Nations museum professionals working in the sector than ever before, though there remains more work to do.
While Manchester Museum has returned artefacts to other communities before, its head of exhibitions and collections, Georgina Young, saw last week's return as unique. This return was facilitated through relationships formed when Young and her colleagues visited Groote Eylandt to meet and work with Elders and community members.
For the Anindilyakwa community, awareness of the now-repatriated dolls has already helped revitalise culture through a contemporary art program, the Dadikwakwa-kwa Project, led by women from Anindilyakwa Arts. Two of the artists were part of the Manchester delegation.
Staff and visitors to the Manchester Museum had the opportunity to hear First Nations voices and stories. The repatriation and associated public programs created a space where people could experience not just historic collections, but living Anindilyakwa culture.
Australian museums are also reconsidering how they can engage with community.
Museum Victoria's Yulendj group (from the Kulin word for "knowledge and intelligence") was formed during development of the museum's First People's exhibition, installed in 2014.
The group has helped foster strong and deep relationships between the museum, its staff and community members. Aboriginal Elder Esther Kirby (Wiradjuri/Yorta Yorta/Yitha Yitha) characterised the results as like "one of those patchwork quilts. Everybody's got a different story and them patches all join together".
The Australian Museum's 2021 Unsettled exhibition responded to the 250th anniversary of Captain Cook's arrival on the Australian mainland. First Nations curatorial team Laura McBride and Mariko Smith engaged with Aboriginal and Torres Strait Islander peoples before exhibition planning had begun.
Smith describes how they wanted to embrace the role of "curator" as a conduit for First Nations voices. The resulting exhibition gave a genuine sense the curators were holding themselves accountable to community-centred relationships.
Unsettled provided visitors with new and sometimes uncomfortable perspectives on the complex history of Australia since European invasion.
Building the future
Still, many large institutions remain resistant to change.
Conservative commentators, politicians and museum directors have expressed concerns that repatriation sets a dangerous precedent and risks opening the floodgates.
But political scientist Pierre Losson has analysed the return of cultural heritage objects from "universal museums" in North America and Europe.
He has found the return process can result in new trusted relationships. These relationships can form the basis of a model for the future: networks of related institutions and communities, rather than singular sites of preservation and display.
Thousands of First Nations objects are still held in institutions around the world. Despite the resistance of some, the hope is more museums will see these collections as opportunities for empathy and relationship-building.
For communities, reconnecting with artefacts provides new opportunities for cultural resurgence. And for the institutions involved, the relationships created provide new opportunities for public programming and exhibitions featuring diverse voices and perspectives, connecting their visitors not just with artefacts and artworks, but with living cultures.
As Ward said following the ceremony in Manchester:
We believe this is the future of museums. This is how we should be.