Read the original article here
July 5, 2023
There has been a flurry of scaremongering recently about Western Australia's new Aboriginal Cultural Heritage Act, which came into effect on July 1.
The act aims to better reflect the aspirations of Aboriginal people in government and business decisions that impact their cultural heritage. The views of Indigenous people have not been given equal weight in WA on these matters before, which has led to disastrous consequences.
The state's outdated Aboriginal Heritage Act from 1972 failed to prevent Rio Tinto from legally destroying ancient and sacred rock shelters in Juukan Gorge in 2020 to expand an iron ore mine, demonstrating the need for legal reform.
The new act in WA is a step towards alignment with laws in other states, too. So, why is there so much concern about it?
Why was this new law instituted?
Past changes to WA's cultural heritage law have disadvantaged Indigenous people. Those reforms narrowed the definition of Aboriginal heritage, weakening the protection of sacred sites to enable mining projects and other developments.
The new act aims to rectify this situation and better protect Australia's 60,000 years of precious Aboriginal heritage. The law was developed over a period of five years and involved extensive consultation with many groups from all over WA.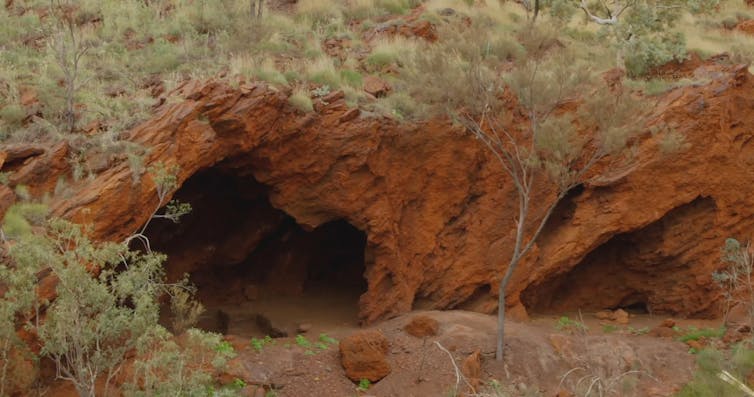 What does the new act try to do?
While development and heritage protection can sometimes co-exist, it is not always possible – notably in mining regions. Once tangible pieces of cultural heritage are destroyed, they are gone forever. This is why the act aims to strike a better balance between the interests of different land users and stakeholder groups.
The new law includes stronger protections for significant sites and broader definitions of Aboriginal cultural heritage. It also requires developers to consult with Traditional Owners via new governance structures.
And it includes a positive duty to exercise due diligence – which means actively avoiding harm to Aboriginal heritage – and stronger penalties for breaking the law.
The law also considers cultural landscapes such as ancestral journeys through song lines – not just individual cultural sites. This approach means that both tangible and intangible cultural heritage can be protected.
There are now opportunities to establish protected cultural heritage areas in the state, too, which haven't existed before.
Is all of the concern justified? Why is there so much confusion?
Despite the aim of striking a better balance between different stakeholder interests, many groups remain concerned about the act.
Farmers say the changes may delay their normal operations and impede their ability to work the land. Some fear they might be unduly prosecuted or fined.
Mining companies say the introduction of the law has been shambolic with exploration companies concerned it will slow the discovery of the minerals we need for the energy transition away from fossil fuels, such as lithium, copper and iron ore.
It has also been reported that sales of residential properties over 1,100 square metres have now started including disclosure statements that the buyer understands there may be new legal obligations to consider.
This may be adding to the fearmongering, similar to the introduction of the Native Title Act in the 1990s, when people feared they could lose ownership of their suburban backyards. That never came to pass.
---
Read more: From crumbling rock art to exposed ancestral remains, climate change is ravaging our precious Indigenous heritage
---
The Shire of Carnarvon in WA says the new law may trigger community disputes about who is the appropriate Traditional Owner or knowledge holding group for a particular area of land. But this is not a new issue.
While there may be some uncertainty about the act, it does not mean the changes are unworkable. What will be required is adequate resourcing for the new local Aboriginal cultural heritage services and the new Aboriginal Cultural Heritage Council.
To allay fears, the WA government says for the first 12 months it will focus on implementation of the act, not punishing stakeholders for breaches of the more rigorous requirement to conduct Indigenous heritage surveys.
Public workshops and education sessions will be offered for anyone who is uncertain about the new requirements, as well.
Is the new law strong enough?
While it may be a step in the right direction, the law does not go far enough from an Indigenous perspective and for other professionals who work with Indigenous people.
A major point of contention is that the state minister for Aboriginal affairs can still have the final say in situations where traditional owners and developers do not agree on the destruction of cultural heritage. In the past, the minister has routinely prioritised mining and other developments over Aboriginal heritage protection.
The First Nations Heritage Protection Alliance has called for overarching federal legislation to ensure Indigenous self-determination and consent rights on cultural heritage are codified into Commonwealth law.
---
Read more: Juukan Gorge inquiry: a critical turning point in First Nations authority over land management
---
In addition, the Dhawura Ngilan vision, which was developed by Australia's peak Indigenous heritage bodies, outlines best practice standards for cultural heritage management and legislative protections.
It calls for Aboriginal heritage to be acknowledged and valued as central to Australia's national heritage and recognised for its global significance. The vision sees Aboriginal people as the custodians of their own heritage, supported by strong and consistent heritage management policies across all states.
This issue of how we make decisions that balance competing interests is going to be more pressing in the future. Much of the mining required for the crucial minerals to fuel the renewable energy transition overlaps with Indigenous peoples' lands.
Despite some improvement to the cultural heritage law in WA, more needs to be done. There needs to be protections for water resources and managing the cumulative impacts major developments (such as mining) can have on cultural heritage over time.
There is a lot more work to do to ensure our laws are not only fair, but also comprehensive. The next 12 months will hopefully allay fears the new state Aboriginal Cultural Heritage Act will cause chaos and take us backwards.