Published: May 25
Aboriginal and Torres Strait Islander readers are advised this article contains names of deceased people. The symbol † next to a personal name is a conventional respectful indicator that the person has died.
The first large dictionary of the Warlpiri language began in 1959 in Alice Springs, when Yuendumu man †Kenny Wayne Jungarrayi and others started teaching their language to a young American linguist, †Ken Hale.
Sixty years in the making, the Warlpiri Dictionary has been shortlisted for the 2023 Australian Book Industry Awards – a rarity for a dictionary.
Spoken in and around the Tanami Desert, Warlpiri is an Australian Aboriginal language used by around 3,000 adults and children as their everyday language.
Warlpiri artist Otto Sims Jungarrayi says:
In the old days when kardiya [non-Indigenous] people came, when they reached this continent, we had jukurrpa "law" here, not written on paper but true jukurrpa "law", that the ancestors gave us. Now we put our language and our jukurrpa law on paper.
The dictionary and these materials represent the authority of elders, even if those elders are no longer present.
From the start of this project, Hale tape-recorded and transcribed many hours of Warlpiri people talking about language, country, kin and diverse aspects of traditional life.
The Warlpiri people he recorded came from different parts of Warlpiri country, speaking their own distinctive varieties of the language. From this material, Hale hand-wrote the words and meanings on small slips of paper that could be sorted in different ways.
Making a dictionary
Bilingual education was introduced in Northern Territory schools in the 1970s. It meant the Warlpiri communities needed a common spelling system.
In the early 1970s, at Lajamanu community, Warlpiri men †Maurice Luther Jupurrurla and †Marlurrku Paddy Patrick Jangala worked with linguist †Lothar Jagst to develop that spelling system. It was adopted in the new bilingual schools.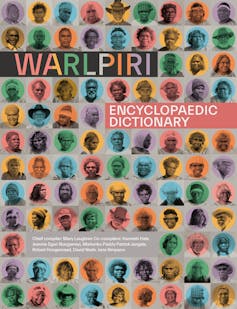 Dictionary work became a focus for the new linguist position at Yuendumu School, first filled in 1975 by the dictionary's chief compiler, Mary Laughren. She worked closely in the school with dictionary co-compiler †Jeannie Egan Nungarrayi.
Over the next four decades, in a type of early crowd-sourcing, more than 210 Warlpiri speakers from different Warlpiri communities worked on and off with Laughren and others. They found words (ultimately 11,000 plus), decided how to spell them, translated them into English, showed how they can be used in Warlpiri sentences, and provided the social, cultural and biological information that makes this a truly encyclopaedic dictionary.
Co-compiler †Marlurrku Paddy Patrick Jangala took on a mission to preserve the meanings of conceptually difficult and older words by writing definitions directly in Warlpiri. The 4,000 complex definitions in Warlpiri provide Warlpiri perspectives on the most important characteristics of each concept.
For example, in these two entries, both defined by †Marlurrku Paddy Patrick Jangala:
Kukuju-mardarni is like when a person is happy or is sitting on their own feeling satisfied, or is nodding off to sleep, or is smiling – a man or a woman feeling happy about something like a lover or about their spouse whom they desire or because their lover has sent them a message.
Kukuju-mardarni, ngulaji yangkakujaka yapa wardinyi manu yangka nyinami kurntakurntakarra manu yukukiri wantinja-karra manu yinkakarra karnta manu wati yangka wardinyi nyiya-rlanguku marda waninja-warnuku manu marda kali-nyanuku kujaka yangka wardu-pinyi manu marda yangka kujakarla jaru yilyamirni waninja-warnurlu.
And:
Jalangu is a day which is not tomorrow or not yesterday. It is today. It is the time of daylight that is now.
Jalangu, ngulaji yangka parra jukurra-wangu manu pirrarni-wangu, jalanguju. Yangka parra rdili kujaka karrimi jalanguju.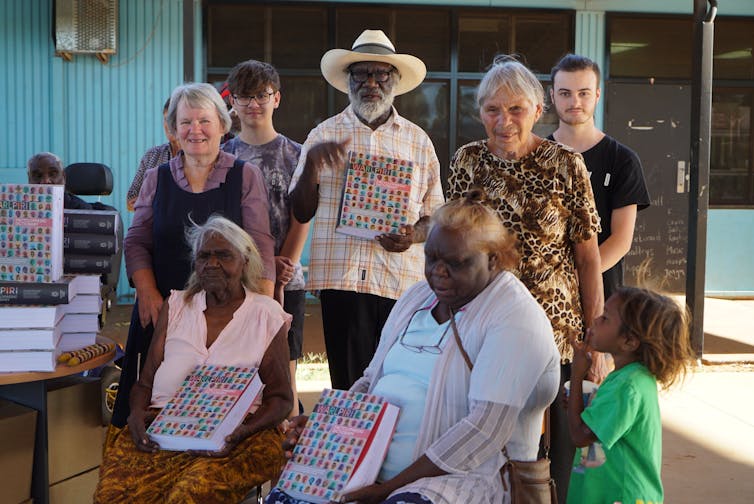 Warlpiri Dictionary contributors and family, with Mary Laughren. Photo: Jeff Bruer, PAW Media, for Aboriginal Studies Press/AIATSIS, Author provided
Then, there was the laborious task of checking the draft dictionary entries.
Computer scientists assisted with data management and experimented with an electronic display, called Kirrkirr. Kirrkirr users can type in a word and see a visual display of meanings connected to that word (for example, words with a similar meaning, or the opposite meaning). They can also hear it pronounced, and see examples of how the word is used in Warlpiri.
Experts (among them anthropologists, Bible translators, botanists and zoologists) helped to identify plants, animals and more.
And artists, including Jenny Taylor and Jenny Green, provided images they had created for the Institute for Aboriginal Development Press Picture Dictionary series and other publications.
Passing on Warlpiri language
Warlpiri people have been working to pass on their language, to ensure their children and grandchildren can speak it.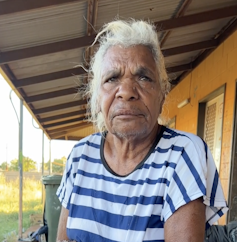 Tess Ross Napaljarri began working as a teaching assistant 50 years ago, setting up the Yuendumu bilingual education program. She has described how she learned to read and write Warlpiri. "We became partners with the teachers in how to teach the Warlpiri children," she says.
The children were learning their first language, Warlpiri, and second language, English, "and they were really smart on both languages". The commitment of Warlpiri people to bilingual education has been – and continues to be – enormous. Since 2005, they have dedicated royalty money through the Warlpiri Education and Training Trust into supporting this work.
Warlpiri want Warlpiri children to be able to speak for themselves in a meaningful way – in both English and Warlpiri. Today, many Warlpiri now live away from Warlpiri country.
Tess's niece, Bess Price Nungarrayi, is now assistant principal at Yipirinya School, on Arrernte country in Alice Springs. With more limited opportunities for hearing Warlpiri, Bess says the dictionary will be very useful in strengthening children's Warlpiri.
This bilingual dictionary has many audiences. Warlpiri people enriching their knowledge of their language, Warlpiri and non-Warlpiri teachers preparing learning materials, Ranger groups studying eco-systems on Warlpiri country. And anyone wanting to learn about Warlpiri language, history, natural history knowledge and culture.
It can help Warlpiri speakers translate complex Warlpiri words into English, and it's also an important tool for outsiders to learn Warlpiri – something Warlpiri people have long encouraged.
Future generations
Ormay Gallagher Nangala, a Warlpiri educator at the Bilingual Resources Development Unit, says:
Junga jintajinta-manulu nyurruwarnu-patu-wiyi ngulalpalu nyinaja, purlkapurlka wurlkumanu. And ngulajangkaju-ngalpa manurra, young people ka wangka school-rla karnalu warrki-jarri ngulalku, ngulangkalu jintajinta-manu and jungarlupa ngurrju-manu nyampu naa dictionary. Kurdu-kurdurlulu ngula nyanyi yangka.

The dictionary makers brought together information and intentions from the elders who have now passed away, the people who have been working in education for many years, and the future generations who will continue to learn Warlpiri.
---
This article was written with the collaboration of senior Warlpiri women Ormay Gallagher Nangala and Tess Ross Napaljarri.